Home

About our Business

Hawaiian Stone Artifacts

Other Hawaiian Artifacts

Hawaiian Glass Bottles

Soda-bimal

Soda-ABM

Whiskey

Beer

Other

Miscellaneous

Selling Your Artifacts

Appraising Your Artifacts

Our eBay Store

Contact Us

Links
Other Bottle Types
Hawaii is well known for its Siphons, gins and medicine bottles. A good description of pre ABM bottles is found in Elliot-Gould "Hawaii Bottles of Long Ago." A few of the interesting Siphons and Gins are pictured.

A nice collection of Hawaii gins take in the view.
| | |
| --- | --- |
| | From Left to Right nice examples of a Hoffschlaeger Co., Ltd, two W.C. Peacock & Co, Ltd. and a Lovejoy & Co. Honolulu - Note the nice amethyst Peacock. Amethyst-colored glass was colored by the mineral Manganese which turns purple in the sun. Bottles produced before 1910 may contain this mineral. |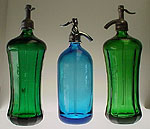 A nice grouping of Hawaii colored Siphons. Hawaii Siphons were all made in Europe or the mainland. There are fine examples of Hawaiian stenciled and etched siphons. Early siphons were produced in the early 1900's. According to reports, many Hawaii siphons are found on the mainland. Some never made it to Hawaii or they were shipped back for various reasons.
| | |
| --- | --- |
| A nice yellowish green Siphon Company bottle. When Rycroft later purchased the Siphon Company, they etched off the word Siphon Company. | A green Siphon Company and Blue Honolulu Soda Company enjoy a bright Hawaii day. |
| | A stenciled Honolulu Soda Co. Siphon sits on the shelf by its contemporary soda and beer bottles. |
| | When Siphon Company was bought out by Rycroft, the name Siphon Company was etched out and the name Rycroft was etched in its place. Here are two examples one showing Rycroft and the other with Siphon Company etched out but the new name not yet etched. |
| | | |
| --- | --- | --- |
| This Siphon Company yellow siphon is one of only 5 or 6 known. | This green Rycroft Round siphon is one of only three known. | This Waialua green siphon is dark colored and rare. |